Product Description
Hemp seeds are gift of nature and are a complete protein. Organic Hulled Hemp Seeds have the most concentrated balance
of proteins, essential fats, vitamins and enzymes combined with a relative absence of sugar, starches and saturated fats. Hemp
seeds are one of nature's perfect feeds - a Super Food, support optimal health and well being, for life. Raw Hulled Hemp Seeds
provides a broad spectrum of health benefits, including: weight loss, increased and sustained energy, rapid recovery from disease
or injury, lower cholesterol and blood pressure, reduce inflammation, improvement in circulation and immune system as well as natural
blood sugar control.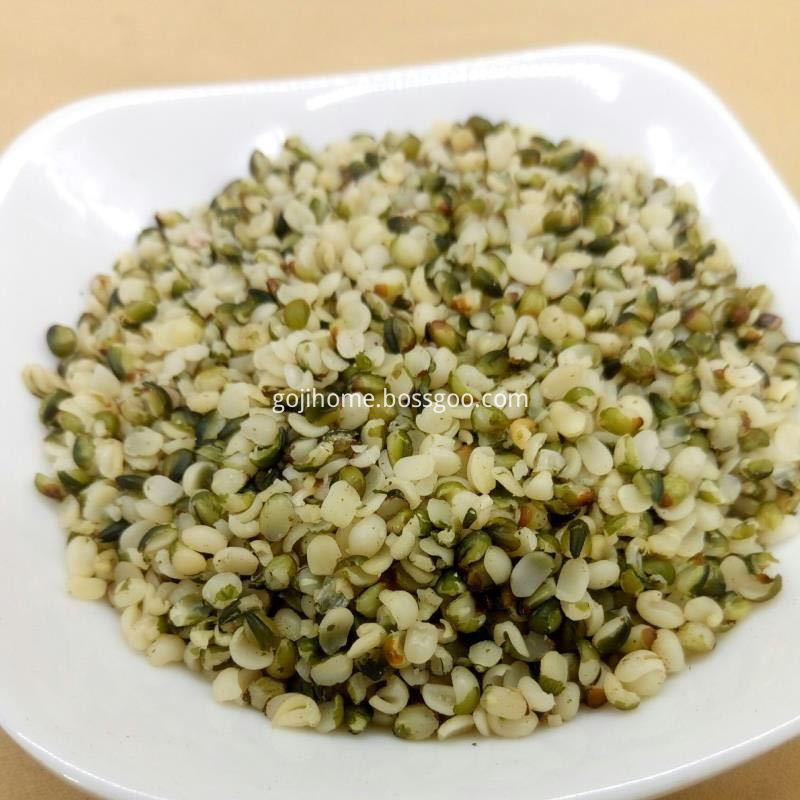 Parameter
unit
value
Moisture
%
≤8
Admixture
%
≤0.1
Rancid Kernels
%
≤0.2
Hull and un-hulled seed
%
≤0.2
stone,glass,hair and metal
%
Not Detected
purity
%
≤99.9
Peroxide Value
g/100g
≤0.1
Free Fatty Acid
g/100g
≤2
THC
ppm
≤2(LOD 0.2ppm)
ND (LOD 4 ppm)
Aflatoxin
ppb
Not Detected
Gluten
ppm
ND(LOD 5ppm)
Health Benefits:
Hemp seeds have long been prized as a high-quality source of plant-based protein and omega fatty acids. A single serving of hemp seeds,
about two heaping tablespoons, provides 10 grams of protein and 10 grams of omegas. Hemp also packs in all nine essential amino acids,
which we need to get through diet since our bodies don't produce them naturally. Hemp seed oil, which is the oil derived from pressed hemp
seeds, contains the most essential fatty acids of any nut or seed oil. Of the three main hemp products on the market-seeds, oil, and protein
powder-hemp seeds will provide the broadest spectrum of nutritional benefits per serving.
FAQ:
Q: Production and deliver
A: After deposit, order enter into 1st stage( production, packaging, factory inspect, etc), then 2nd stage is CIQ inspection and written CIQ Certificate
lead time one week(7 days), 3rd stage we arrange to arrange cargo shipment to departure port. Vessel lead time as per destination port in different
countries( Such as North America line, South America Line, EMP, Asia, Australia, etc )