Product Description
Native to China, goji berries have been used in Chinese medicine for years because of it's nutritive and
medicinal benefits of goji berries. Our conventional dried goji berry are very high in antioxidants,
are anti-inflammatory, anti-bacterial and anti-fungal.
Our non organic conventional dried goji berry are fruity and delicious. Goji berries contain all essential
amino acids, have the highest concentration of protein of any fruit and are veryhigh in vitamin C and
carotenoids. They also have 21 trace minerals including iron, calcium, zinc, selenium and are high in fibre.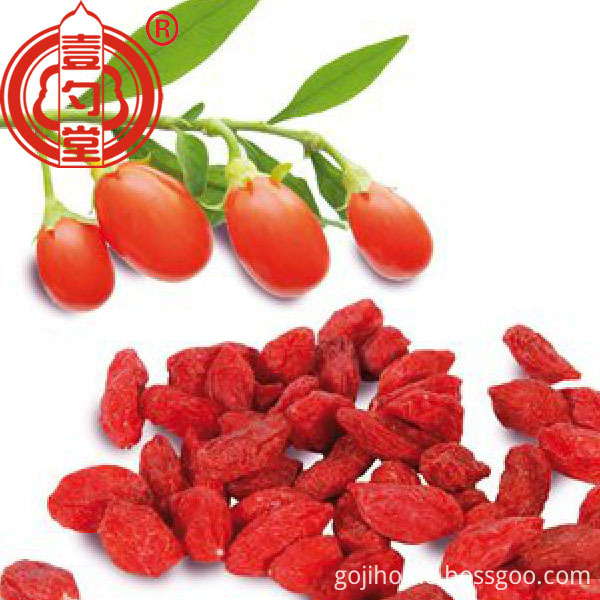 Product name: Dried goji berry
Grade:A Grade
Size:380 Grains/50G
Color:Thick red
Taste:Sweet

Features:Medicinal, edible and healthy value
Type:Medlar
Shape:Oval
Cultivation Type:Common
Cultivation Type:Open Air
Dry type: Low temperature air dry
Max. Moisture (%):13%

Place of Origin:Ningxia,China
Shelf Life:2 Years
Brand Name:Yishaotang
Export Packaging: Bulk, 5kg/aluminum foil bag, 20kg/carton
Certification: QS,HALAL,BCS Organic certificate
Storage:Dried and Cool Place
Origin:Zhongning NingxiaChina
Related products: Low pesticide residues Goji berries fruit, Organic Goji berries
Conventional dried goji berry Ningxia fruit

Export Packing& shipping
Inner Packing:5kg /Aluminum FOIL Bag outer packing: 20Kg/ Carton Carton size:51x37x29cm
Factory delivery time: After down payment 12 working days
CIO Certificate: QUALITY&QUANTITY&WEIGHT CERTIFICATE, PHYTOSANTARY CERTIFICATE ,SANITARY CERTIFICATE,HEALTH CERTIFICATE
Departure port : Tianjin port or Qingdao Port
Loading : 11.5Tons /1*20GP container
Question: Production and deliver
Answer: After deposit, goji berry order enter into 1st stage( production, packaging, factory inspect, etc), then 2nd stage is CIQ inspection and written CIQ Certificate lead time one week(7 days), 3rd stage we arrenge cargo shipment to departure port. Vessel lead time as per destination port in different countries( Such as North America line, South America Line, EMP, Asia, Australia, etc )