Product Description
Black Goji berry fruit is the herb originated in China. It is the richest in nutrient call oligomeric roanthocyanidins, which helps to eliminate toxins. This nutrient have great antioxidant properties and can be used for cancer prevention. Healthy black goji berry fruit is know to have powerful antioxidant and anti-aging properties to delays the aging process and helps you to look young.
Black Goji berries fruit is rich in protein, Goji Berries polysaccharides, amino acids (18), vitamins (13 kinds), minerals, trace elements and other nutrients. Its uniqueness lies its natural procyanidins OPC (Red Goji Berries contains no OPC). Procyanidins is one of the most effective natural water-soluble free radical scavenger– 20 times than VC, 50 times than VE. The contents of its OPC is 10 times more than blueberries. So far, black Goji berries was found to contain the highest OPC among the wild natural plants, exerting great power in anti-aging and keeping young. According to scientific data, its medicinal value is 100 times more than red Goji berries.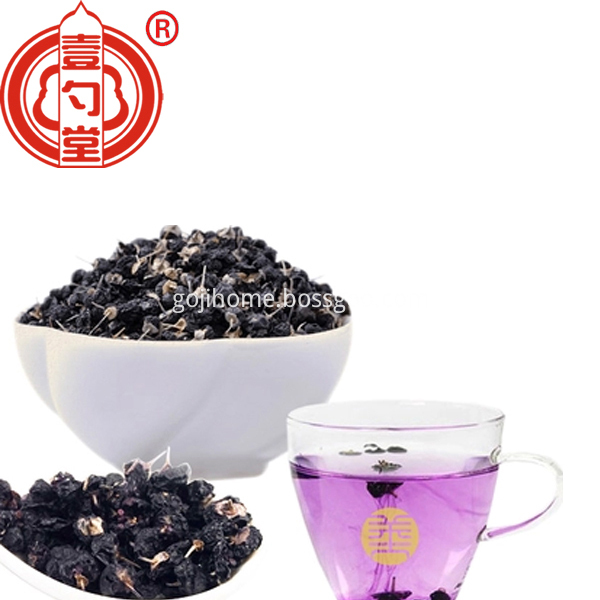 Product Name: Black Goji berry

Grade: One
Type: Medlar
Taste: Sweet
Shape: Oval
Drying Process: AD
Cultivation Type: Natural, Open Air
Max. Moisture(%): 13%
Certificate: Eurofins Certificate, SGS Certificate
Shelf Life : 18 months
Place of Origin :Ningxia,China(Mainland)
Brand Name: Yishaotang
Model Number: BSHX-
Method Of Use: Medicinal, edible and healthy value
Storage: Dried and cool place, Ventilation, Moisture proof
The healthy black goji berry fruit grade two

Packaging: bulk packing 4 kg/aluminum foil bag, 4 bag/carton
Net Weight(kg) : 16kg
Gross Weight(kg) : 17.5kg
Carton size : 51x37x29cm
MOQ: 100kg
Payment: T/T,Western Union, L/C, D/P
Delivery: 15 working days after down payment (deposit)
DeparturePort: Tianjin/Qingdao
Loading: 11.5 Tons/1*20GP container
CIQ Certificate: QUALITY&QUANTITY&WEIGHT CERTIFICAT, PHYTOSANTARY CERTIFICATE ,SANITARY CERTIFICATE,HEALTH CERTIFICATE
FAQ:
Q: How about payment terms?
A: 30% TT deposit+70% TT before shipment.
Q: Production and deliver
A: After deposit, goji berry order enter into 1st stage( production, packaging, factory inspect, etc), then 2nd stage is CIQ inspection and written CIQ Certificate lead time one week(7 days), 3rd stage we arrenge cargo shipment to departure port. Vessel lead time as per destination port in different countries( Such as North America line, South America Line, EMP, Asia, Australia, etc )