Product Description
Wolfberry tea is produced from the goji berries tree and it is highly nutritious. This tea contains a similar amount of helpful phytochemicals and antioxidants as those present in goji berry fruit and juice. Regular consumption of goji berry bud tea may therefore prove to be beneficial. Wolfberry tea goji berry bud tea can strengthens the body and restores health with TCM;Eliminates internal heat and toxic materials;Reduces phlegm and suppresses coughing;Relieves minor pain; Balances medicinal properties.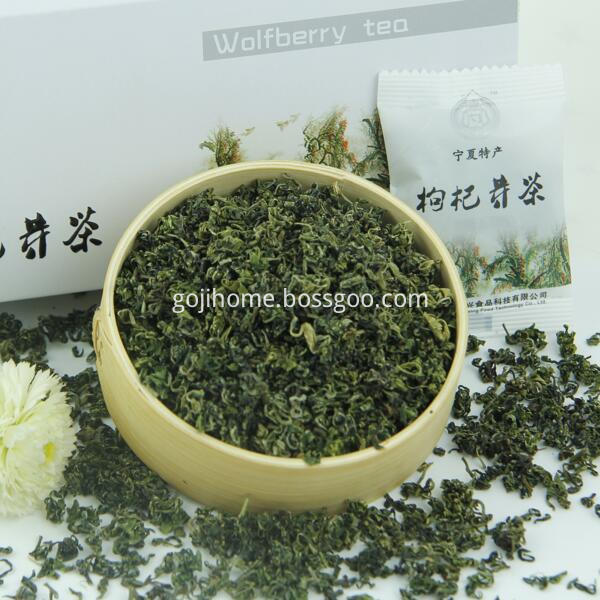 Suggested Usage:
The property of goji leaf is mild, so that you can drink goji berry bud tea
Preparation of goji berry bud tea: take 1-1.5g tea in a Cup, steep the tea with boiling water until the water rises just over the tea, then pour out the water from the cup at once(activation).Steep the tea with 150ml boiling water again and wait for about 5 minutes. Then drink the goji bud tea.
Note:
The tea is drunk and the bits and pieces of dried herbs are chewed. It is recommended not to add sugar in this green tea preparation, as the berries used in the preparation process have natural sweetness.
FAQ:
Q: How about payment terms?
A: 30% TT deposit+70% TT before shipment
Q: Production and deliver
A: After deposit, goji berry order enter into 1st stage( production, packaging, factory inspect, etc), then 2nd stage is CIQ inspection and written CIQ Certificate lead time one week(7 days), 3rd stage we arrange cargo shipment to departure port. Vessel lead time as per destination port in different countries( Such as North America line, South America Line, EMP, Asia, Australia, etc )