Product Description
How to Use Goji Berries, you can refer to the following usage suggestion for Dietary Red Dried Goji Berries
Raw: First and foremost, eat them raw! A small handful a day will do. Usually 15-30g per day is ok.
Juice: Goji berries are also available in juice form. Down to Earth carries 100% Goji Juice without
any added sugar, or color.
Tea: Goji berries can be used to brew in a tea. You can add a handful of goji berries to a big glass
of hot or cold water (or herb tea) and let sit and hydrate for 5 to 10 minutes. They become plump
and juicy. You can drink the tea and eat the hydrated berries which are loaded with antioxidants.
Smoothies: Soak a handful of goji berries in water for 10 minutes. Once they are plump and juicy,
add them to your favorite smoothie. It won`t make much of a change to the taste or consistency of
your smoothie.
Trail Mix: You can also add goji berries to your favorite trail mix. Or, make your own by mixing your
favorite nuts and dried fruit with some goji berries. Kids like it when you add some chocolate or peanut
butter chips to the goji trail mix.
Cereal: Just like raisins, add some goji berries to your hot or cold cereals in the morning.
Muffins and Scones: Add goji berries to muffins or scones just as you would raisins.
Goji Energy Bars: Blend a handful of goji berries together with cup of walnuts, ½ cup almonds, and
5-6 dates in a food processor. Roll the mix into balls or spread in a deep pan to make bars.
Add to Soups: This has been a common use of goji berries in Chinese cuisine for thousands of years.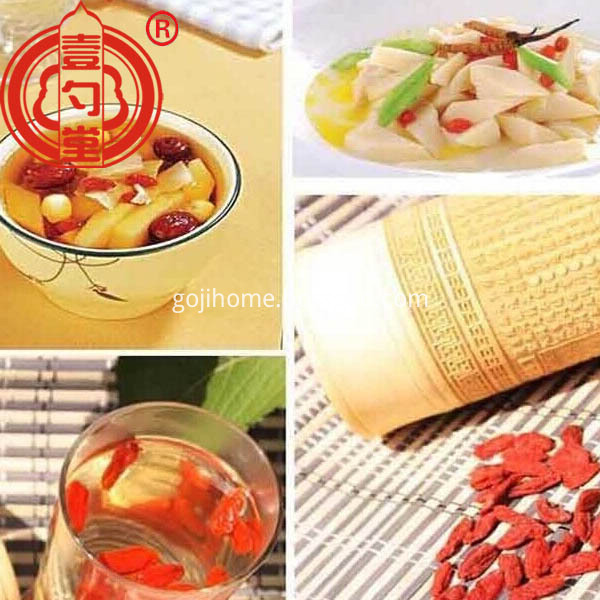 Product name: Goji berries
Grade:A Grade
Size:180~1000 Grains/50G
Color:Thick red
Features:Medicinal, edible and healthy value
Dry type: Low temperature air dry
Max. Moisture (%):13%

Storage:Dried and Cool Place

Shelf Life:2 Years
Brand Name:Yishaotang
Certification: QS,BCS Organic certificate
Cultivation Type:Common
Cultivation Type:Open Air
Related products:Conventional goji berry Organic goji berry
Nutritional Value Of Premium Goji Berries Dried Fruit
Dried goji berries contain calories, carbohydrates, fat, dietary fiber, sugar, and protein. The minerals and vitamins found in goji berries include sodium, potassium, calcium, iron, zinc, selenium,vitamin C, carotene, thiamin, riboflavin, lutein , lycopene, zeaxanthin, polysaccharides, betaine, and peptidoglycans.
Process Flow Chart for Premium Goji Berries Dried Fruit
①Raw material resources(According to standardized planting Goji berry in own base → Picking→Drying)→②Raw material acceptance [Key control points]→③Drying→④ Grade Sorting→⑤ Color selection →⑥ Artificial picking(1st time)→⑦ Winnowing removing impurity→ ⑧De-stonner remove stone→ ⑨Electrostatic hair separation→ ⑩Artificial picking (2nd time,via artificial picking platform→⑪ X-ray Apparatus→⑫ Ultraviolet sterilization→⑬ Full automatic package(inner package) →⑭Outer packing workshop (outer package ) →⑮Inspection(proportionate sampling)→⑯Warehousing→ ⑰ labeling→ ⑱ To be sold after inspection approved(Secondary sampling inspection)
Ningxia Goji berry dried fruit
Export Packing& shipping
Inner Packing:5kg /Aluminum Foil Bag outer packing: 20Kg/ Carton size:51x37x29cm
Factory delivery time: After down payment 12 working days
CIO Certificate: QUALITY&QUANTITY&WEIGHT CERTIFICATE, PHYTOSANTARY CERTIFICATE ,SANITARY CERTIFICATE,HEALTH CERTIFICATE
Departure port : Tianjin port or Qingdao Port
Loading : 11.5Tons /1*20GP container
QUESTION: Production and deliver
ANSWER: After deposit, goji berry order enter into 1st stage( production, packaging, factory inspect, etc), then 2nd stage is CIQ inspection and written CIQ Certificate lead time one week(7 days), 3rd stage we arrenge cargo shipment to departure port. Vessel lead time as per destination port in different countries( Such as North America line, South America Line, EMP, Asia, Australia, etc )