Product Description
Organic goji berries are delicious added to your cereal, trail mix, or yogurt. Dried organic goji berries
have a mild sweet taste and chewy texture. Some folks like them reconstituted with hot water first to
soften them.
Known as the world's most powerful anti-aging food, Goji Berries Organic are rated #1 on the ORAC
(Oxygen Radical Absorbance Capacity) scale, which measures the antioxidant level of foods.
Whole naturally dried Goji Berries, high in antioxidants, and they contain 8 of the 9 essential amino
acids that the body needs to obtain from food every day to help it build protein.Organic goji berries
contain even more vitamin C than oranges. As a natural source of this nutrient, Dried Goji Berries Organic
boost the immune system and help your body ward off colds and infection. Organic goji berries are also
extremely rich in vitamin A which protects the eye`s cornea and supports good vision.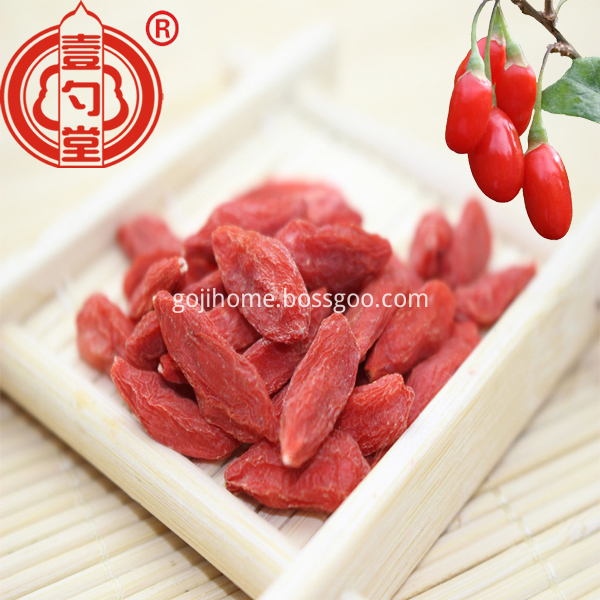 Product name: Organic Goji berries
Grade:A Grade
Size:180~1000 Grains/50G
Color:Thick red
Features:Medicinal, edible and healthy value
Dry type: Low temperature air dry
Max. Moisture (%):13%

Storage:Dried and Cool Place

Shelf Life:2 Years
Brand Name:Yishaotang
Certification: QS,BCS Organic certificate
Cultivation Type:Common
Cultivation Type:Open Air
Related products:Conventional goji berry Low Pesticide goji berry
Nutritional Value Of Premium Goji Berries Dried Fruit
Dried goji berries contain calories, carbohydrates, fat, dietary fiber, sugar, and protein. The minerals and vitamins found in goji berries include sodium, potassium, calcium, iron, zinc, selenium,vitamin C, carotene, thiamin, riboflavin, lutein , lycopene, zeaxanthin, polysaccharides, betaine, and peptidoglycans.
Process Flow Chart for Premium Goji Berries Dried Fruit
①Raw material resources(According to standardized planting Goji berry in own base → Picking→Drying)→②Raw material acceptance [Key control points]→③Drying→④ Grade Sorting→⑤ Color selection →⑥ Artificial picking(1st time)→⑦ Winnowing removing impurity→ ⑧De-stonner remove stone→ ⑨Electrostatic hair separation→ ⑩Artificial picking (2nd time,via artificial picking platform→⑪ X-ray Apparatus→⑫ Ultraviolet sterilization→⑬ Full automatic package(inner package) →⑭Outer packing workshop (outer package ) →⑮Inspection(proportionate sampling)→⑯Warehousing→ ⑰ labeling→ ⑱ To be sold after inspection approved(Secondary sampling inspection)
Ningxia Goji berry dried fruit
Export Packing& shipping
Inner Packing:5kg /Aluminum Foil Bag outer packing: 20Kg/ Carton size:51x37x29cm
Factory delivery time: After down payment 12 working days
CIO Certificate: QUALITY&QUANTITY&WEIGHT CERTIFICATE, PHYTOSANTARY CERTIFICATE ,SANITARY CERTIFICATE,HEALTH CERTIFICATE
Departure port : Tianjin port or Qingdao Port
Loading : 11.5Tons /1*20GP container
QUESTION: Production and deliver
ANSWER: After deposit, goji berry order enter into 1st stage( production, packaging, factory inspect, etc), then 2nd stage is CIQ inspection and written CIQ Certificate lead time one week(7 days), 3rd stage we arrenge cargo shipment to departure port. Vessel lead time as per destination port in different countries( Such as North America line, South America Line, EMP, Asia, Australia, etc )