Product Description
Goji Berries fruitt is a native Chinese deciduous shrub with bright red berries. The dried berries
and root bark are used to make medicine. Goji is used for diabetes,high blood pressure,poor circulation,
fever, malaria and cancer. It's also used for dizziness,ringing in the ears((tinnitus); and to reduce fever,
sweating, irritability, thirst, nosebleeds, cought, and wheezing.
Some people use Non-Organic Goji Berries fruit or Organic Goji Berries fruit as an eye tonic for blurred
vision,for macular degeneration,and for other eye disorders. Goji is also used to strengthen muscles and bone,
and as a blood, liver, and kidney tonic.
In foods, the Goji berries are eaten raw or used in cooking.
The use of goji was first described in the first century AD in Chinese literature. Traditionally, goji has been used
to promote longevity. Legend claims that one herbalist who used goji in combination with other tonic herbs lived 252 years.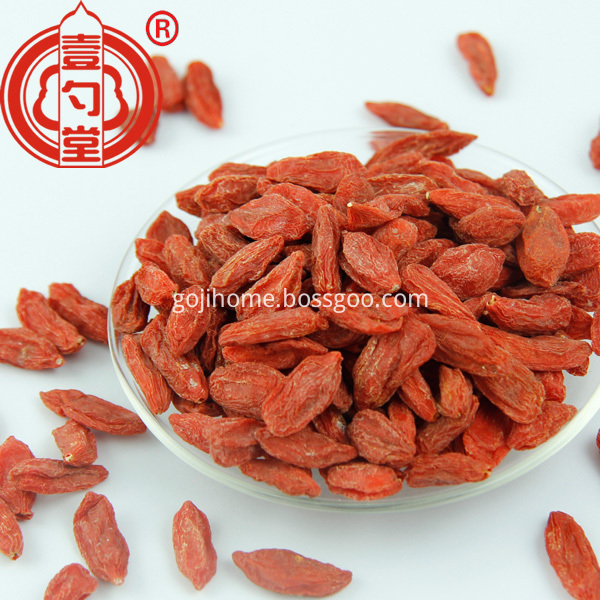 Product name: Goji berries
Goji style: Low pesticide
Grade:A Grade
Size:380 Grains/50G
Color:Thick red
Features:Medicinal, edible and healthy value
Dry type: Low temperature air dry
Max. Moisture (%):13%

Storage:Dried and Cool Place

Shelf Life:2 Years
Brand Name:Yishaotang
Certification: QS,BCS Organic certificate
Cultivation Type:Common
Cultivation Type:Open Air
Related products:Low pesticide residues Goji berry Organic goji berry
Healthy Ningxia Goji berry
Export Packing& shipping
Inner Packing:5kg /Aluminum Foil Bag outer packing: 20Kg/ Carton size:51x37x29cm
Factory delivery time: After down payment 12 working days
CIO Certificate: QUALITY&QUANTITY&WEIGHT CERTIFICATE, PHYTOSANTARY CERTIFICATE ,SANITARY CERTIFICATE,HEALTH CERTIFICATE
Departure port : Tianjin port or Qingdao Port
Loading : 11.5Tons /1*20GP container
QUESTION: Production and deliver
ANSWER: After deposit, goji berry order enter into 1st stage( production, packaging, factory inspect, etc), then 2nd stage is CIQ inspection and written CIQ Certificate lead time one week(7 days), 3rd stage we arrenge cargo shipment to departure port. Vessel lead time as per destination port in different countries( Such as North America line, South America Line, EMP, Asia, Australia, etc )