Product Description
Benefiting from Danghe River alluvial fan areas, deep layer, fertile soil and strong permeability, Jun Jujube plating base located at 40° N, is considered as the world's best growing areas for jujube. Jun Jujube
Natural air dried jun jujube is big& fleshy,thin skin, nuclear small, meat thick, bright color, have rich Vitamin C content and higher protein, calcium, iron and zinc mineral content , also high sugar content. Air dried jun jujube was used for soup, tea or direct eat! Dried jun jujube is healthy food supplements and nutritious absorb for human body . Our Grade one natural air dried jun jujube is not only delicious fruit, but also nourishing medicine, people always regard this red jun jujube as excellent tonic.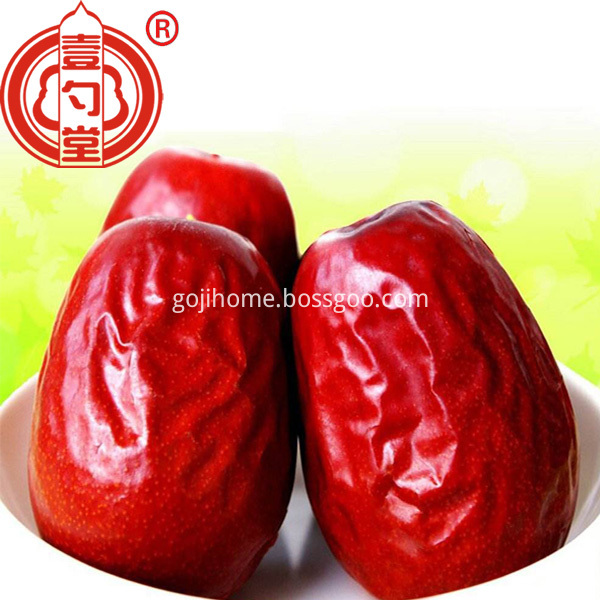 Description of Jun Jujube:
Product name: Dried Jun Jujube
Taste: Sweet
Shape: Ellipse
Grade: grade one
Drying Process: Natural air Dry
Cultivation Type: The tree
Shelf Life: 12 Months
Color : red
Water content: 20~22%
Origin information:Hetian,China
Quality guarantee: 12 months
Storage method: cool and dry place
Jun jujube Growth environment
1.The hot sunlight, the dry climate. Prompt temperature, average sunshine over 15 hours
2.Tian shansnow melt water irrigation growth, sunny, no air pollution and pests, no ground pollution, no rubbish pollution, healthy and delicious, make jujube pulp sweet
3.In October, after absorbing the essence of the whole year, the red jun jujube hung on the tree accumulate a great deal of sugar
FAQ:
Q: How about payment terms?
A: 30% TT deposit+70% TT before shipment
Q: Production and deliver
A: After deposit, order enter into 1st stage( production, packaging, factory inspect, etc), then 2nd stage is CIQ inspection and written CIQ Certificate lead time one week(7 days), 3rd stage we arrange to arrange cargo shipment to departure port. Vessel lead time as per destination port in different countries( Such as North America line, South America Line, EMP, Asia, Australia, etc )