Product Description
Goji berries (Lycium barbarum) are a type of fruit often used to boost health. Frequently consumed as a
whole food, they're said to enhance energy, stimulate the immune system, and stave off a host of health
problems. Extracts of gojiberries (and of the plant's root bark) are also sold in dietary supplement form.
Our 220g Goji Berry bottle is retail pacakgewith our own label, we can accpet customer's label to export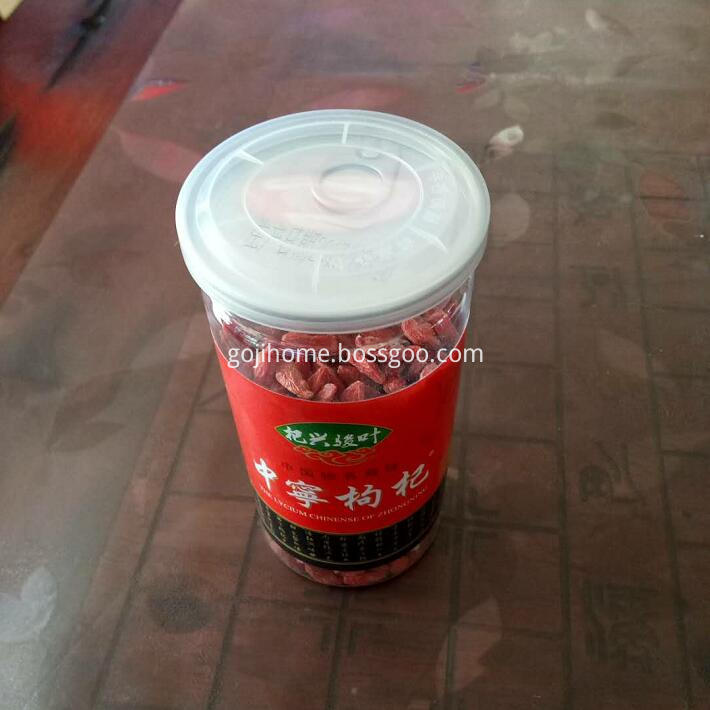 Super Food Nutrition Dried Goji Berries
Export Packing& shipping
Inner Packing:220 /bottle, Outer packing-Master Carton
Factory delivery time: After down payment 10 working days
CIO Certificate: PHYTOSANTARY CERTIFICATE ,SANITARY CERTIFICATE OR HEALTH CERTIFICATE
Departure port : Tianjin port or Qingdao Port
CN HS Code: 1211903100
Process Flow Chart for Super Food Nutrition Dried Goji Berries
①Raw material resources(According to standardized planting Goji berry in own base → Picking→Drying)→②Raw
material acceptance [Key control points]→③Drying→④ Grade Sorting→⑤ Color selection →⑥ Artificial picking(1st time)
→⑦ Winnowing removing impurity→ ⑧De-stonner remove stone→ ⑨Electrostatic hair separation→ ⑩Artificial picking
(2nd time,via artificial picking platform→⑪ X-ray Apparatus→⑫ Ultraviolet sterilization→⑬ Full automatic package(inner package)
→⑭Outer packing workshop (outer package ) →⑮Inspection(proportionate sampling)→⑯Warehousing→ ⑰ labeling→
⑱ To be sold after inspection approved(Secondary sampling inspection)
Why more and more foodstuff dealer choose goji berries business?
1.Protects the liver - less fatigue
2.Helps eyesight – supports kidney functio
3.Increases metabolic activity - burns fat and aids digestion
4.Boosts immune function – Lymphocytes, Interleukin 2, Immunoglobulin
5.Improves circulation - supports distribution of nutrients and quality energy levels
6.Promotes longevity - brings life support to the blood and all internal organs
7.Rich in phytonutrients, antioxidants, particularly carotenoids such as beta-carotene and zeaxanthin.
8.Test studies are showing that Goji berries may prevent the growth of cancer cells, reduce blood glucose,
and lower cholesterol levels.
9.Goji has unique bioactive polysaccharides (LBP) - key markers for building immune response